© Peter Lovett, 2012 web master; Peter Lovett designs, contact peter.lovett@gmail.com
The history of the Adur valley
and six 1,000 years old churches.
Starting from Shoreham, we take the bus to Steyning. We then walk 9 miles to New Shoreham considering the turbulent history of the valley and the architecture of each church on the way.
Picture left shows Peter Lovett at St Mary De Haura church in New Shoreham – the last church on this walk – explaining the extension of the choir and loss of the original nave in previous centuries. To view Peter's talk on the Adur valley churches click here and this walk on Peter's blog, click here.
From late April to August native orchids can be seen in flower in Sussex if you know where to look.
In April, Common Twayblades can be seen in the woods and on the Downs together with Early-purple Orchids. In May and June there is a profusion of orchids from the Heath Spotted-orchid, pictured left, in the High Weald to other species on the Downs. One can never guarantee good weather. Click here to see a walk which found nine Orchid species on a very wet and windy day.
The Heath-spotted Orchid, which requires an acid soil, is found in the wonderful Chailey Common nature reserve. To view more photo's from Chailey Common, click here,
Should you welcome a tailor-made walk to discover beautiful native orchids of Sussex or Kent, please contact me. Please be aware that vagaries of the weather and the variable emergence time of Spring flowers, plus the unreliability of orchids to flower from year to year, makes it difficult to guarantee sightings.
In all seasons & in all weathers, the Seven Sisters are inspiring to walk. A linear walk including Kittiwakes at Seaford Head adds extra interest.
Some of Peter's past walks can be seen on his blog. Click here and also here to view Kittiwakes at Seaford Head in July on a Linear walk from Seaford to East Dean. Click here to see the fun of wading the River Cuckmere at low tide. Click here to see the walk in June before the Kittiwake chicks are visible and to see the variety of flowers.
For companies, this walk has the potential for an inspiring team building exercise... getting everyone across the river, more or less dry. Plastic shoes are recommended!
The Seven Sisters & Friston forest offer walks of great variety and distances.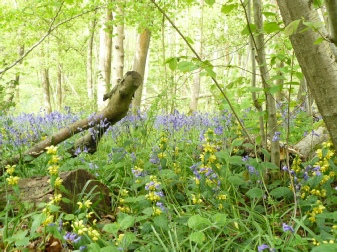 Bluebell walks
In May, the ancient woods of Sussex are carpeted with bluebells.
From a short one mile evening walk to all day events (including perhaps a ride on the Bluebell Steam Railway), bluebell woods are a beautiful sight to enjoy.
Associate Walk Leaders
Peter Lovett walks carefully selected Associate Walk Leaders have an intricate knowledge of Sussex, including the more difficult areas like Ashdown Forest, where there are no signposts. With decades of experience in leading walks they bring yet more breadth to the variety of activities that we offer. For example, should you wish to include an exciting trip on the Bluebell Steam Railway with a linear bluebell walk, William has experience of that as well as an encyclopedic knowledge of ecology and natural history. Tony, formerly an adventurous mountaineer and caver in remote parts of the world, now leads more sedate yet no less interesting walks throughout Sussex.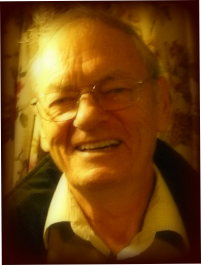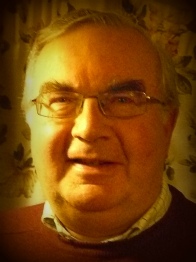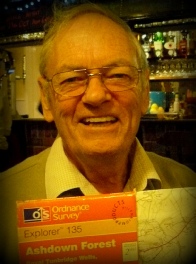 Planning a walk via Pooh bridge in Ashdown Forest, including a game of Pooh sticks!
Below are just a selection from the many interesting walks,
which we can suggest and lead throughout Sussex.
Enjoy a guided walk around historic Rye, its medieval church and buildings and King Henry VIII's
Castle at Camber
plus the bird life of Rye harbour nature reserve.
For its variety of history and nature – this walk is a gem.